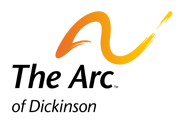 For people with intellectual
and developmental disabilities
HOW TO BECOME A PARTICIPANT
Becoming a participant is fast and easy!
​
You are eligible to participate if:
• You are an individual with intellectual and /or developmental disabilities.
• You have transitioned out of the High School Program
• You are a current member of The Arc of Dickinson. (If you are not a current member, a member of our staff will happily guide you through the steps needed to become one!)
​
Enrollment Process:
1. Make sure you get your participant applications turned in.
2. Call us to schedule an easy and informative interview.
3. Lets get creating!
​
Participating in our program is FREE for The Arc Members! For more information please call 701-483-2723 x104 or email arccreationsprogram@gmail.com
18582290_285606938566892_4416416183527781161_n
19113973_296592887468297_1850615667800906882_n
We'd love to hear from you