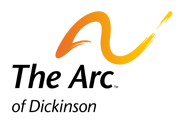 For people with intellectual
and developmental disabilities
History of the Arc Aid Thrift Store
Limited services to people with developmental disabilities fueled a grassroots movement to provide assistance. Through the efforts of Joan Neidhardt and a group of dedicated volunteers, the Arc Aid Thrift Store was established in December 1969 at its present location of 140 2nd St. West, in downtown Dickinson.​
Mrs. Viola Hamann of Dickinson provided funds for the first building addition completed in 1980. She also gave The Arc of Dickinson a loan for the final addition which was completed in 1989. Viola stated that, "the volunteers have earned the right and privilege to open the new thrift shop. My gift to them is the opportunity to do so and their gift to me is appreciation." The store has grown from a little house into the structure we see today. It didn't take long after each expansion, to see that we quickly ran out of room.
​
For more than 40 years this once little store has continued to grow and meet the needs of The Arc of Dickinson and the community with the help of Volunteers. The Arc of Dickinson Board of Directors and staff, support volunteer efforts by making sure they have the necessary tools needed to get their work done. Of course an endless supply of coffee and coffee break treats are a "must have!"
​
Approximately fifty-three volunteers from Dickinson and surrounding communities work at the Arc Aid. Volunteers take care of many of the day to day responsibilities of running the store. Each volunteer has their own special gift and have seen many changes in the store over the years.
Merchandise donated is prepared for sale, priced and displayed by volunteers and staff. Cotton t-shirts that cannot be used are recycled into rags.
Proceeds from the store are used for general operations and programs of The Arc of Dickinson, Inc. and Arc Housing, Inc. The programs we fund include social, recreational and independent learning programs along with support for local transportation efforts and community events.
.​